Press Conference on "Actualizing Cross-border Non-face-to-face Online Securities Account Opening Process"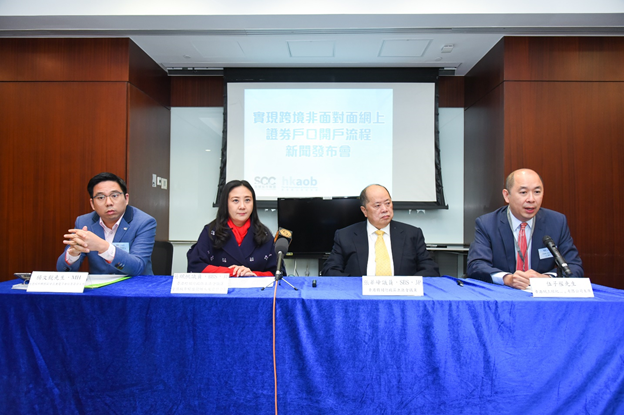 To promote the fintech development and create a secure online cross-border transaction environment, Dr. Hon Elizabeth Quat, BBS, JP, Founder and Honorary President of Smart City Consortium, Mr Christopher Cheung, SBS, JP, representing the financial services sector, together with Smart City Consortium and the Hong Kong Association of Online Brokers, held a press conference on "Actualizing Cross-border Non-face-to-face Online Securities Account Opening Process" on 11 December 2018 at the Hong Kong Legislative Council. Ms Eva Chan, Founder & CEO, and Mr Adam Song, Chief Information Officer of Certizen Limited, are invited to attend.
Elizabeth pointed out, "Electronic identity is an important infrastructure for the development of smart cities. With the progress of smart cities and fintech, the Smart City Consortium is committed to promoting the development of electronic identity and cross-border online transaction services, with China and Hong Kong as the first implementation scenario. In more than two years, we'd been visiting a number of Chinese and local government departments, the legal and technical issues have basically been resolved and are stepping into the application phase. "
Christopher believes that the promotion of cross-border non-face-to-face online securities account opening procedure will assist the securities industry to explore the Mainland China market, and small & medium-sized brokers can provide securities services to Mainland investors. In the future, they may consider further promoting to other Belt and Road cities. Christopher stressed that the cross-border online contract signing and account opening process cannot simply consider technical issues, but more importantly, the issue of mutual recognition of laws and regulations between the two places.
Mr Gary Yeung, Vice President of Smart City Consortium, supplemented the consortium has signed a Memorandum of Understanding on "Promoting Non-face-to-face Electronic Contracts between Beijing and Hong Kong" and the "Beijing-Hong Kong Financial Innovation Interconnection Framework Agreement" with the Beijing partners. Under the authoritative protection of the China Financial Certification Authority, Hong Kong financial organizations and securities firms can verify the identity of Mainland China individuals or companies through face recognition, big data, non-face-to-face authentication and blockchain technology after obtaining the authorization of Mainland China residents. This allows the two places be assured of cross-border mutually authenticated certification, which has legal effect in both places.
In addition, the China Financial Certification Authority has expanded its adaptation of the "Guangdong-Hong Kong Electronic Signature Certificate Mutual Certification Strategy" in its newly released electronic certification business rules, and requires the two places to strengthen the technical standards and mechanisms for financial docking, jointly verify the qualifications of financial software developers, reduce the risk of financial transactions, and ensure the security of national financial information.
Mr Oliver Ng, Chairman of the Hong Kong Association Online Brokers, said that Hong Kong financial regulators have strict supervision over the work of securities firms.
In accordance with the Hong Kong Securities and Futures Commission's Code of Conduct for Licensees or Registrants, the licensee or registrant should take all reasonable steps to establish the true and full identity of each of its customers. Therefore, the development of cross-border financial innovation needs to strictly abide by the laws and privacy protection of the two places. The entire account opening process must be connected to Hong Kong trusted merchants. Since Hong Kong merchants do not have an electronic business registration certificate, they must rely on the Hongkong Post Certification Authority, the only accredited server certificate and the provision of an international standard 24x7 verified Hong Kong merchant identity. This can also prevent Mainland China residents from falling into phishing websites, which in turn promotes a healthy development of Hong Kong merchants in the Mainland China market in a long run. In order to promote cross-border financial connectivity between Beijing and Hong Kong, the China Financial Certification Authority supports the two places to jointly build an effective list of trusted merchants in Hong Kong, and reported the "Beijing-Hong Kong Financial Innovation Interconnection Framework Agreement" to the People's Bank of China and The Ministry of Industry and Information Technology.